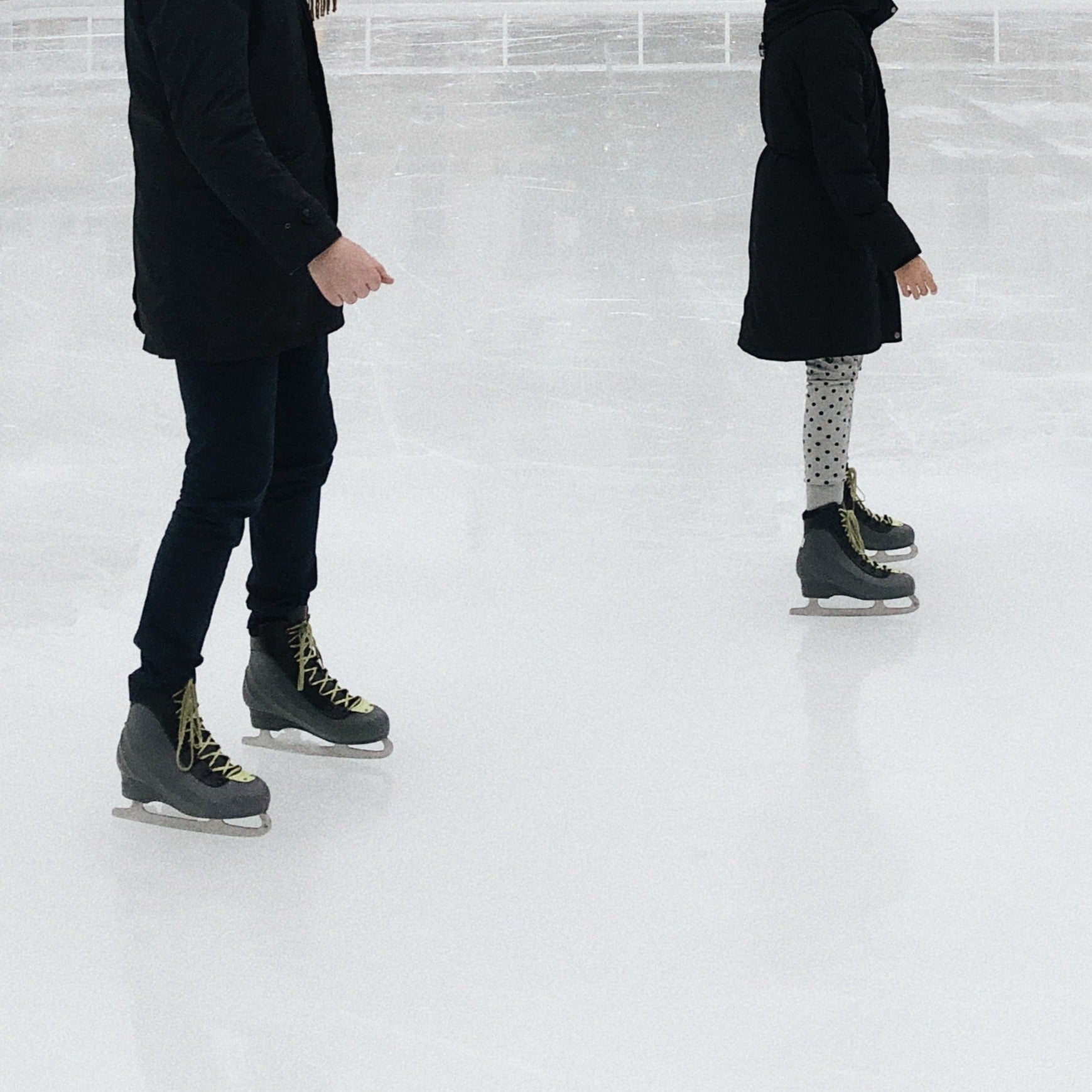 PLEASE READ OUR FAQ'S BEFORE ARRIVING...
No, It's made of a much more sustainable surface using 'Glice' technology, you can read all about it here...
On top of this, the rink still acts and performs just like real ice!
Make sure you arrive at least 20 minutes before your skating session to allow enough time to queue and get your skates on.
Please make your way to the 'Skate Shack' which is the wooden building beside the ice rink.
Here we will check you in and find you a pair of skates.
If you have pre ordered an ice skating ticket, you will have been sent a booking confirmation with a ticket containing a QR code/s.
Please have the QR code/s ready on your phone to show our team so that we can get everyone on the rink on time. QR code print-outs are also accepted.
You can also buy tickets on the day at the Skate Shack, unless we are already completely booked up for that session.
Your best bet is to book ahead online and secure the skating session you would like.
45 minutes of skating is included in every ticket. Each session is 45 minutes long starting on the hour.
For safety, under 5's are not permitted on the rink.
Under 12's are welcome to skate and must be supervised by an adult at all times, on and off the rink.
Yes skates are included in the ticket price and will be handed out after you have checked in at the Skate Shack beside the rink.
You can bring your own ice skates as long as they don't have toe pick ends.
Shoe racks are provided in the Skate Shack beside the rink for storing your shoes whilst you are skating.
Skate sizes available for Adults are 0, 1, 2, 2.5, 3.5, 4, 5, 5.5, 6.5, 7, 8, 9, 10, 10.5, 11, 12
Skate sizes available for children are 7.5, 8.5, 9, 10, 11, 12, 12.5
Skate aids will be available on the day to share between skaters, please be aware there are a limited number per session. We are not charging for the use of skate aids.
We have a maximum capacity of 30 people on the rink at any one time (well below the suggested capacity) to allow space and enjoyment for all skaters.
On weekday mornings and early afternoon you can expect quieter sessions.
Please wear suitable clothing for skating and wrap up warm!
For wetter days please bring waterproofs.
We will not be operating a cloak room, please leave any valuables in your car or at home. 
For safety reasons, cameras and phone cameras are not allowed on the rink. 
Please ask someone off the rink to take photos or videos for you.
If you're skilled enough to skate at high speeds, backwards, perform tricks or acrobatics, please refrain from doing this on our rink.
We have an open air rink, come rain or shine we will be open as usual.
Take in the cold winter air and skate under the stars after dark.
Please wear waterproofs if your session has a forecast of rain.
We will not be able to accept refunds or change ticket times once you have purchased tickets.
In the event of extreme weather forcing the rink to close due to safety, we will email you with the next steps and notify our instagram page.
We're excited to offer a much more sustainable ice skating experience for the Cotswolds this winter at Jolly Nice using 'Glice' technology, instead of the energy guzzling and polluting rinks you'll find across the country. 
Glice synthetic ice requires no fuel for operation, resulting in a zero carbon footprint once installed. "Compared to a refrigerated rink, your sustainable Glice Rink saves 10000 Liters of water and between 8960 and 15800 kWh of electricity per month (depending on local conditions), which corresponds to the monthly power consumption of 31 to 54 households and has an equivalent of 2.5 to 4.3 tons of CO2 emissions." SnowFX
See More... https://www.glicerink.com/how-sustainable-is-glice-synthetic-ice/
You do not have to book online.
Yes you can pay on the day at the rink, please go to the Skate Shack to buy your ticket/s.
However we do highly recommend booking ahead online so that you can be sure to have a skate.
If we are at capacity then we will not be able to let anyone else on the rink.
Booking online is the only way to secure your spot on the rink before you arrive.
There will be no additional booking fee at checkout. The price listed is the price charged at checkout.
Pre-purchased tickets are non-refundable and we are unable to change/swap dates once purchased.
Jolly Nice is a card payment only site, cash is not accepted.
There is no parking charge at Jolly Nice.
Open every day
The Hive Cafe: 8am - 8pm
Drive Through: 8am - 6pm
The Bar: 12 - 8pm / 10pm on Friday and Saturday
Eating and drinking is not permitted in the rink. Please make time before and after to enjoy your Jolly Nice treats!
Jolly Nice provides a key platform for locally sourced produce with nature friendly farming at the centre of our ethos. Supporting our local farmers, growers and artisan producers.
This winter our chefs will be cooking up seasonal and festive specials, with our famed free range turkey burgers, kids free range hot dogs, warming mulled wine, toasted marshmallows, mince pies and homemade hot chocolate - all made from scratch in our kitchens at Jolly Nice. 
Served all day from the Drive Through and The Hive, along with our usual menu of coffee, shakes, cakes, breakfast baps, burgers, toasties, sandwiches, soup and more. 
You can also order our menu at the bar, a place to enjoy the best of local, with award winning artisan wines, spirits, organic beer and cider. Proudly serving 100% British drinks, avoiding any air miles and championing our local makers.
We kindly ask that only food purchased from Jolly Nice is to be consumed on site.
1. The Jolly Nice Ice Rink shall be entitled to remove anyone from the venue, or any attraction, at any time, who is under the influence of drugs or alcohol or who, in the reasonable opinion of the Staff, is conducting themselves in a manner inappropriate to their continued attendance. The Jolly Nice Ice Rink shall be entitled to request visitors leave the venue at any time. In this eventuality no refund will be given for any ticket cost or payments made to the Jolly Nice Ice Rink, or any associated attractions.
2. Smoking (including use of e-cigarettes), eating, drinking and the use of photographic and recording equipment or mobile phones is prohibited whilst on the ice. This is to maintain a safe environment for users of the rink. Only food and drink which has been purchased from the venue can be consumed within the café / bar area / viewing area.
3. By entering the site, visitors consent to being photographed, filmed or recorded and consent to such photographs, films or recordings being used by the Jolly Nice Ice Rink to publicise the event in the future.
4.The ticket holder only has a right to the session outlined up to the corresponding value stated on the ticket.  
5.Ticket holders cannot sell, cancel or transfer their tickets under any circumstances. Refunds are issued at the sole discretion of the Jolly Nice Ice Rink. The Jolly Nice Ice Rink will not be responsible for any tickets which are lost, stolen or purchased in error.
6. Admission to the ice rink is by ticket only. All ice skaters must have a valid ticket. All tickets are issued subject to rules and regulations of the venue.  
7. Each ice-skating session is up to 45 minutes long. 
8. Each visitor is responsible for attending their session 15 - 30 minutes before the allocated session time starts. The Jolly Nice Ice Rink is not liable if the visitor arrives late for any reason and misses their session. The Jolly Nice Ice Rink is not obliged to refund the ticket or reallocate a new session time.
9. Skate aids are only available on the door for purchase. Any skate aids will be available on a first come, first served basis (subject to availability).
10. Skate aids are available in limited numbers. The Jolly Nice Ice Rink is under no obligation, and is unable, to provide a skate aid for all children.
If you choose not to attend your allocated session due to the weather conditions or decide to leave early, no refund, either in part or in whole, will be given.  
11. If you have been removed from the ice rink or venue for inappropriate behaviour, you will not be issued a refund or an alternative session.
12. All customers that ice skate or enter any part of the venue do so at their own risk. 
13. Participating in ice skating carries an inherent risk. Any participation is totally at the user's own risk. Anyone with any medical conditions, serious previous injuries, recently broken bones, knee or joint problems, head injuries, pregnancy, mobility problems, or taking prescribed drugs, should carefully consider whether it is safe for them to participate without endangering themselves or other participants whilst ice skating. The Jolly Nice Ice RInk is not liable for any injury, loss or damage however caused.
14. The Jolly Nice Ice Rink accepts no responsibility for damage, loss or theft of any personal property that occurs whilst ticket holders are on any part of the site.